Braden Family Cookbook
Chuck Braden
FRENCH CAFE AU POULET SANDWICH Elaine Magee
<![if !vml]>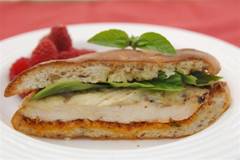 <![endif]>
Original recipe contains around 680 calories, 38 grams fat, 20 grams saturated fat, and 188 milligrams cholesterol per sandwich.

Make 2 sandwiches
•2 grilled boneless skinless chicken breasts (see step No. 1 for suggestions)

•1 teaspoon salt-free herb seasoning like Mrs. Dash Garlic & Herb (optional)

•2 whole grain buns or wedges of focaccia bread

•8 large fresh basil leaves

•2 tablespoons sun-dried tomato pesto or olive tapenade (both available in jars at most supermarkets)

•23 ounces brie cheese (reduced-fat if available)

If you haven't already grilled the chicken breasts, you can start preheating your indoor grill (like George Foreman Grill). While the indoor grill is preheating, pound the raw chicken breasts with meat mallet (if thick) to about 1/2-inch thick. Coat both sides of the chicken breasts with olive oil or canola oil cooking spray, and sprinkle a salt-free herb blend like Mrs. Dash Garlic & Herb over both sides if desired. Place two seasoned breasts on preheated indoor grill and cook for about 8-10 minutes or until grill marks are apparent and chicken is cooked throughout.

Spread the bottom piece of each serving of bread with a tablespoon of tapenade. Top each with the hot chicken breast. Place thin brie slices evenly on top of the chicken and set briefly under the broiler to melt the brie.

Top the brie with fresh basil leaves and the top half of the bread and serve.

Per serving: 420 calories, 45 grams protein, 25 grams carbohydrate, 15 grams fat, 6 grams saturated fat, 7 grams monounsaturated fat, 2 grams polyunsaturated fat, 125 milligrams cholesterol, 4 grams fiber, 712 milligrams sodium. Calories from fat: 32 percent. Omega-3 fatty acids, 0.2 grams; Omega-6 fatty acids, 1.7 grams; Weight Watchers points: 9.