<![if !vml]>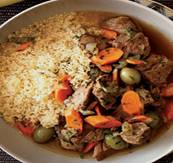 <![endif]>
Lamb Tagine with Green Olives and Lemon
Stowell
Adapted from a Food and Wine recipe
SERVES: 4
1/4 cup extra-virgin olive oil
3 garlic cloves, minced
One 2 1/2-inch strips of lemon zest
1 TSP finely minced fresh ginger
1 teaspoons sweet paprika
1 teaspoons ground coriander
1/2 teaspoon ground cumin
1/2 teaspoon freshly ground black pepper
Pinch teaspoon cayenne pepper
Pinch teaspoon ground cloves
Pinch of saffron threads, crumbled
One 3-inch cinnamon stick
Kosher salt
2 pounds boneless lamb shoulder or boneless leg, cut into 1-inch pieces
2 cups water 1 medium carrot scrubbed and cut into ¼-inch dice
3 large carrots, thinly sliced
1/2 onion, cut into 1/4-inch dice
1 cup pitted green Picholine or Manzanilla olives, rinsed
1/2 cup flat-leaf parsley, chopped
1/2 cup cilantro leaves, chopped
2 tablespoons fresh lemon juice
directions
In a large bowl, mix the olive oil, garlic, lemon zest, ginger, paprika, coriander, cumin, black pepper, cayenne, cloves, saffron, cinnamon stick and 1/2 tablespoon of kosher salt. Add the lamb and toss to coat. Refrigerate for 4 to 6 hours.
Scrape the lamb and spices into a tagine or a medium enameled cast-iron casserole; discard the lemon zest. Add the water, diced carrots and onion and bring to a simmer. Cover and cook over low heat until the lamb is very tender, about 2 hours.
Spoon off any fat from the broth. Add the sliced carrots and cook until tender, about 6 minutes. Stir in the olives, season with salt and cook for 2 minutes. Remove from the heat and stir in the parsley, cilantro and lemon juice. Ladle into bowls and serve.
SERVE WITH: Couscous.